Table of Contents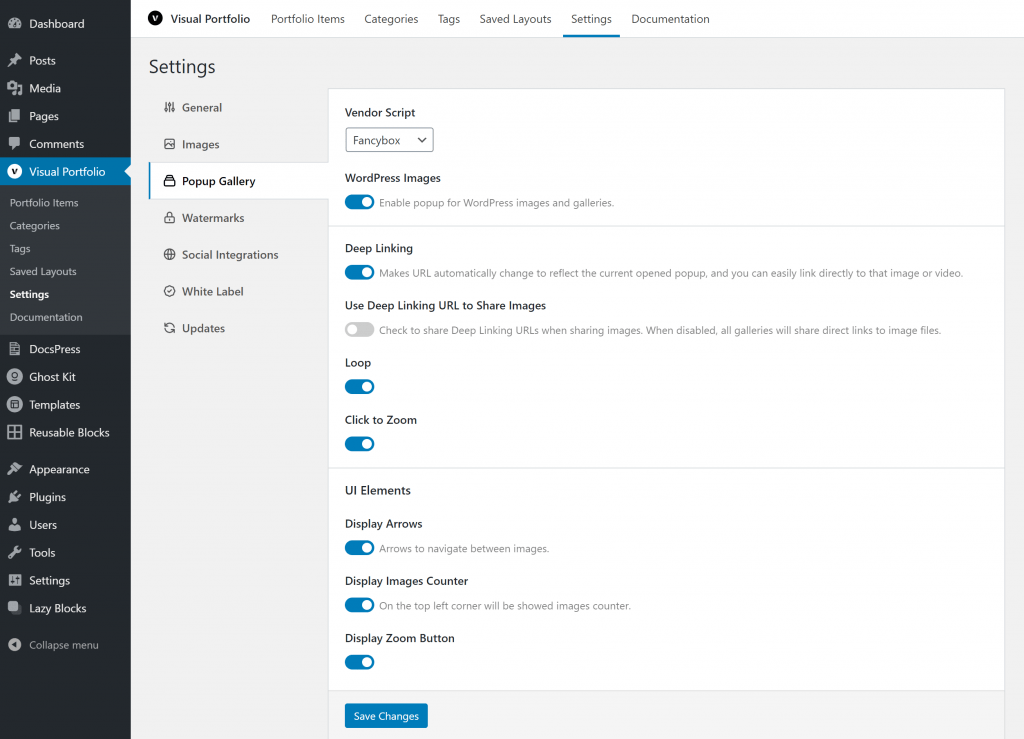 Adjust your popup gallery settings.
General
Vendor Script – popup gallery script (PhotoSwipe or Fancybox)
Lightbox for WordPress Images – enable popup for all WordPress images and galleries (not only for Visual Portfolio galleries).
---
Deep Linking (Pro) – makes URL automatically change when you open popup and you can easily link to specific popup image.
Use Deep Linking URL to Share Images (Pro) – check to share Deep Linking URLs when sharing images. When disabled, all galleries will share direct links to image files.
Loop (Pro) – check to enable loop image gallery.
Click to Zoom – allows you to disable the default possibility to zoom when you click on the image.
UI Elements
Display Arrows – arrows to navigate between images.
Display Images Counter – if you enable this option, an image counter will be shown.
Display Zoom Button
Display Fullscreen Button
Display Share Button
Display Close Button
Display Thumbnails
Thumbnails Opened At Startup (Pro)
Thumbnails Position (Pro)
Display Download Button
Display Slideshow
Quick View
Internal Links (Pro) – select where to open internal links, displayed inside the Quick View frame
External Links (Pro) – select where to open external links, displayed inside the Quick View frame
Custom CSS (Pro) – when you display pages in a popup iframe, you may not need some page elements like a header and footer. Hide it using custom CSS with classname .vp-popup-iframe.
Misc
Background Color – Popup gallery background color