Table of Contents
Go to Admin Area → Visual Portfolio → Settings to adjust the plugin settings. These settings will be applied to all portfolio layouts.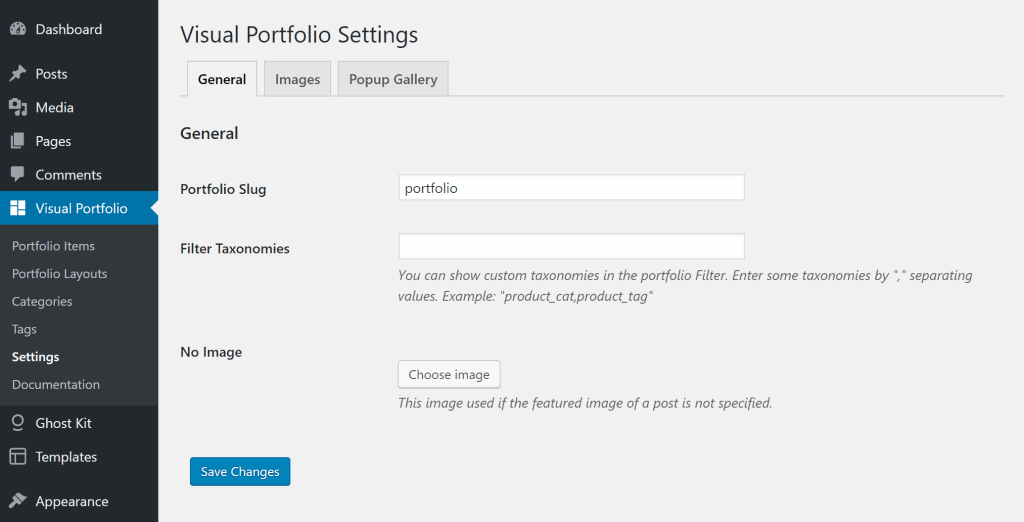 General
Portfolio Slug – slug used in URL of portfolio items.
Filter Taxonomies – add taxonomies that can be used for a portfolio. For example, if you add the portfolio_tag taxonomy in the list, you'll be able to select a group of posts by tags for your portfolio.
No Image – this option allows to set a default image that is used when a featured image isn't specified for a portfolio item.
Popup gallery
Adjust your popup gallery settings.
Vendor Script – Popup gallery script (PhotoSwipe or Fancybox)
Display Arrows – Arrows to navigate between images.
Display Images Counter – if you enable this option, an image counter will be shown.
The following options allow to show/hide certain buttons:
Display Zoom Button
Display Fullscreen Button
Display Share Button
Display Close Button
Display Thumbnails
Display Download Button
Display Slideshow