Go to Admin Menu > Visual Portfolio > Settings to adjust the plugin settings. These settings will be applied to all portfolio layouts.
General
Portfolio Slug – slug used in URL of portfolio items.
Filter Taxonomies – add taxonomies that can be used for a portfolio. For example, if you add the portfolio_tag taxonomy in the list, you'll be able to select a group of posts by tags for your portfolio.
No Image – set a default image that is used when a featured image isn't specified for a portfolio item.
AJAX Cache and Preload – reduce AJAX calls request time.
Responsive Breakpoints – change default responsive breakpoints, that used for automatic responsive code for Tiles, Masonry columns, and Carousel slides count.
Images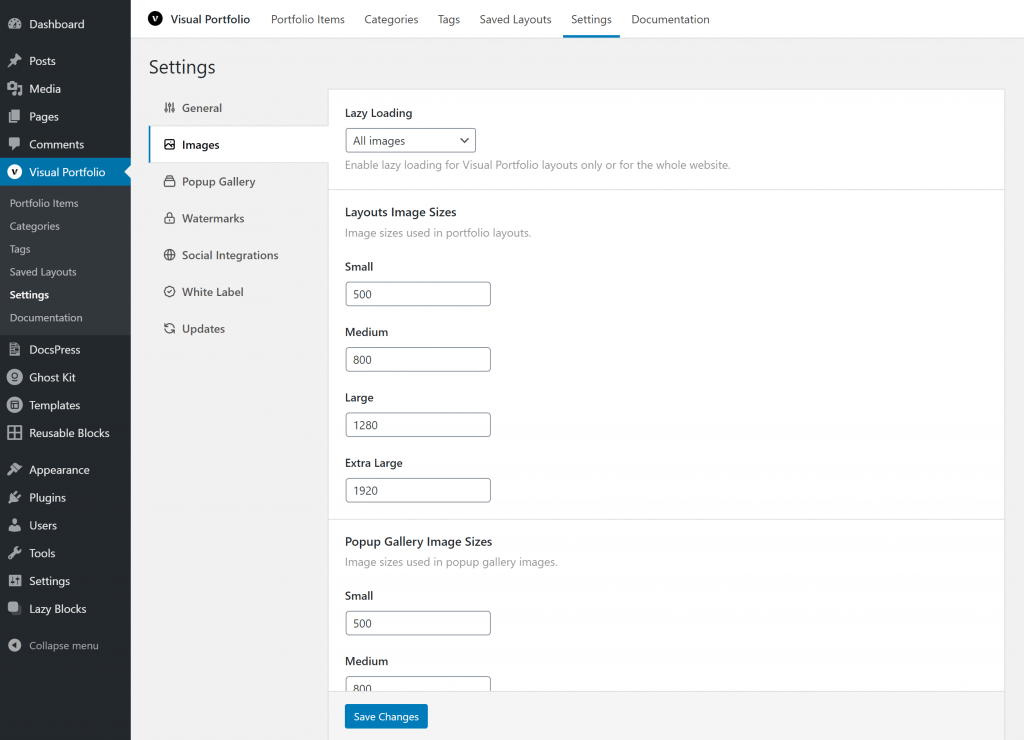 Lazy Loading – enable Visual Portfolio images lazy loading to optimize page speed loading.

Disabled – disable lazy loading only in case, if it is conflicting with 3rd-party lazy loading scripts
Visual Portfolio only – enable for images displaying in Visual Portfolio layouts only
All images – enable lazy loading for all images on your site

Image Sizes – set of custom image sizes, used in our plugin for your images. You can change these sizes, but don't forget to Regenerate Thumbnails.
Popup Gallery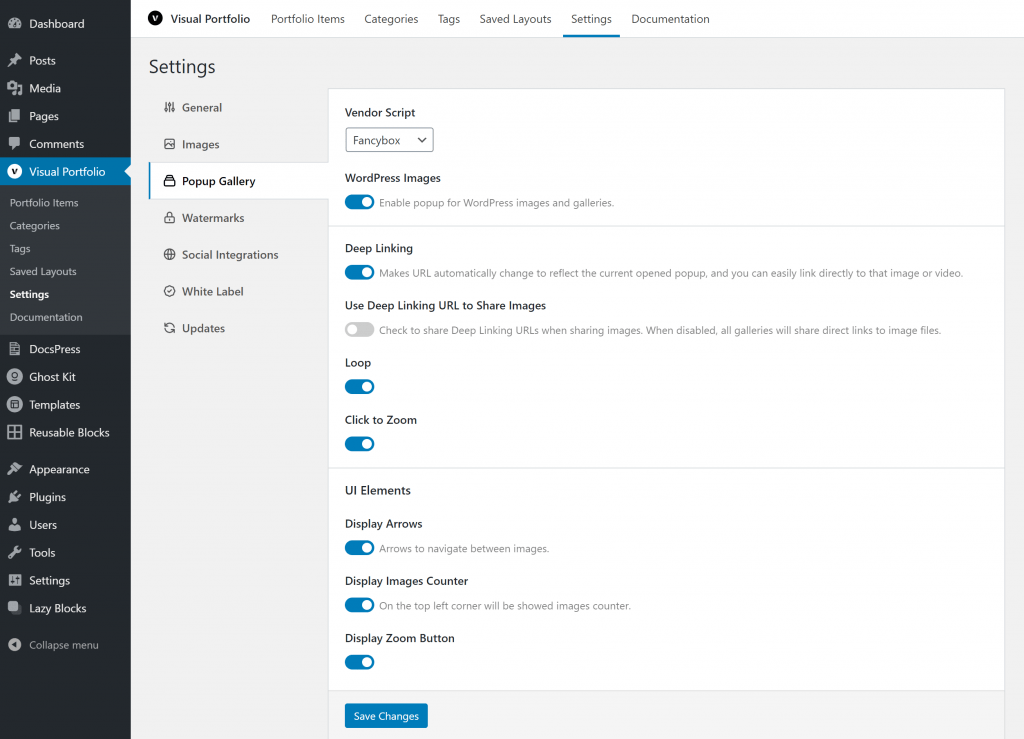 Adjust your popup gallery settings.
Vendor Script – popup gallery script (PhotoSwipe or Fancybox)
WordPress Images – enable popup for all WordPress images and galleries (not only for Visual Portfolio galleries).
Deep Linking – makes URL automatically change when you open popup and you can easily link to specific popup image.
Use Deep Linking URL to Share Images – check to share Deep Linking URLs when sharing images. When disabled, all galleries will share direct links to image files.
Loop – check to enable loop image gallery.
Click to Zoom – allows you to disable the default possibility to zoom when you click on the image.
Display Arrows – arrows to navigate between images.
Display Images Counter – if you enable this option, an image counter will be shown.
Display Zoom Button
Display Fullscreen Button
Display Share Button
Display Close Button
Display Thumbnails
Thumbnails Opened At Startup
Thumbnails Position
Display Download Button
Display Slideshow
Background Color
Pages iFrame Custom CSS – when you display pages in popup iframe, you may not need some page elements like header and footer. Hide it using custom CSS with classname .vp-popup-iframe.
Watermarks
Add watermarks protection to images. Don't forget to enable watermark protection on the block https://visualportfolio.co/documentation/portfolio-blocks/protection/
Logo – your image to display as watermarks
Size – watermark size in percent
Opacity
Autogenerate – automatically apply watermark during image upload
Social Integrations
These settings used to connect your social networks as a source for Visual Portfolio galleries. More info read here:
White Label
Possibility to use your brand name and logo instead of our "Visual Portfolio"
Enable White Label
Brand Name
Logo Dark
Logo White
Updates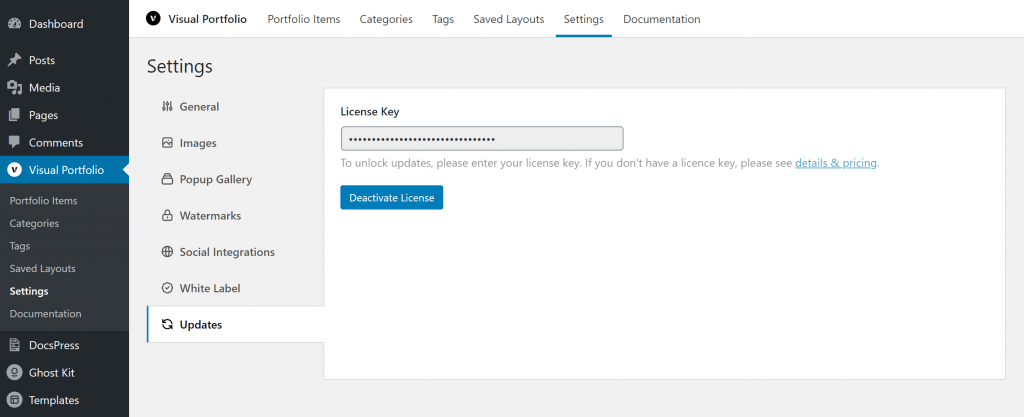 Pro users can insert their license key here and get automatic updates for Visual Portfolio Pro plugin.