Table of Contents
The Emerge effect adds an appearing caption on hover. If there is no caption, it adds a placeholder for it.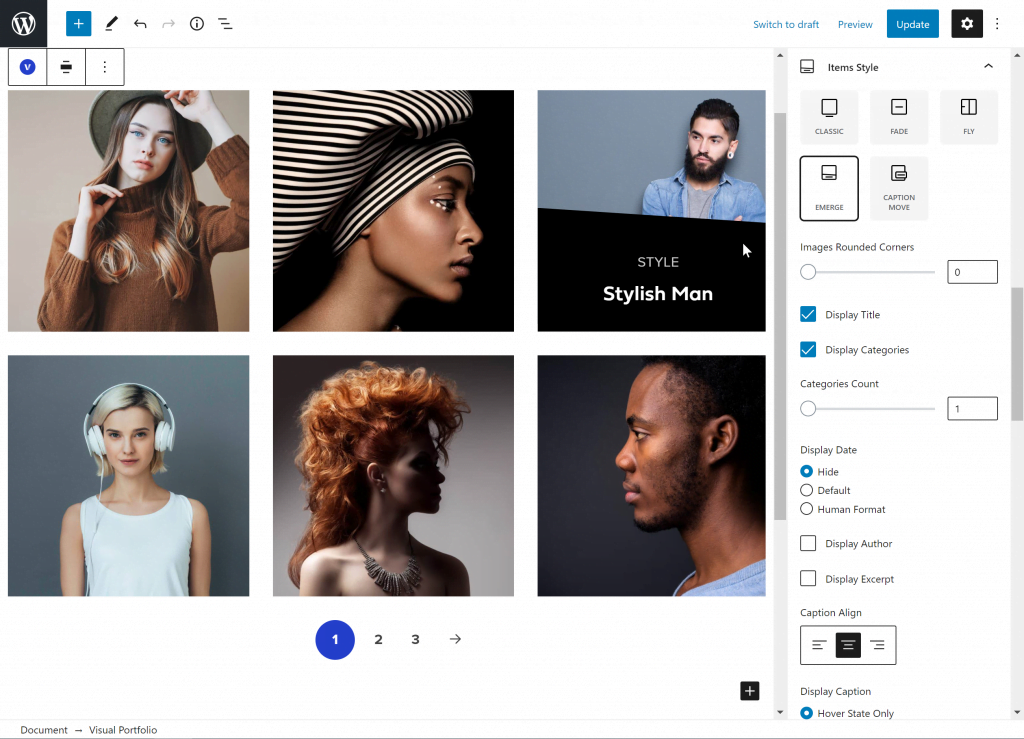 Standard Settings
These settings used in all available Items Styles:
Images Rounded Corners
Display Title
Display Categories

Categories Count – sets the maximum number of categories shown at the same time.

Display Date
Display Author
Display Views (available for Posts only)
Display Reading Time (available for Posts only)
Display Excerpt

Excerpt words count – sets the number of words from an excerpt shown on a portfolio item in a layout.

Display Icon – the icon will be displayed when you hover over the image. The image selected automatically, depending on the item format or type (Image, Video, Audio, etc…).
Caption Align
Display Overlay – select when we need to display the overlay: hover state, default state, or always
Overlay Background Color
Overlay Text Color
Move Overlay Under Image – useful option for mobile devices, when not possible to hover over the items. The overlay will be always displayed without interaction.
Hover Tilt Effect – 3D effect, when you hover over the image.
Filter – select Instagram-like image filter effect on hover or/and default state.
Settings For Emerge Style Only
These settings used in Emerge items style only.
Display Caption – select when we need to display the overlay: hover state, default state, or always
Caption Text Color
Caption Links Color
Caption Links Hover Color